Merry Christmas!
Q.  What type of veil do consecrated virgins living in the world receive?
A.  Typically a consecrated virgin receives a bridal veil or a white scarf or mantilla when consecrated.  Normally, consecrated virgins living in the world do not wear veils like some religious women do, but a virgin may choose to wear her consecration veil on occasions such as her consecration anniversary.
Update:  I thought I'd add some photos of some consecrations: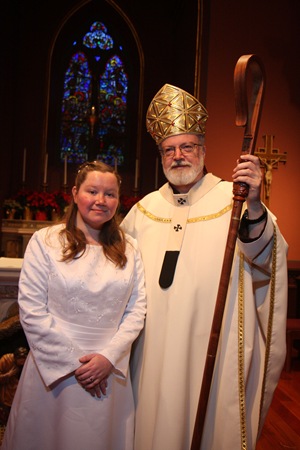 Here, Joan has chosen not to receive the veil.
In the above video, you can see the six consecrated virgins process out of the basilica.  They have white albs over their clothing and some of them have lace mantillas and some have a white pashmina like scarf.
Site for Photos of Polish Consecrated Virgins
You can see in the above photo that these particular virgins did not choose to wear a veil.
(c) 2009 by Therese Ivers, JCL
www.DoIHaveAVocation.com